Doorways' officers receive Employer Support of the Guard and Reserve Patriot Awards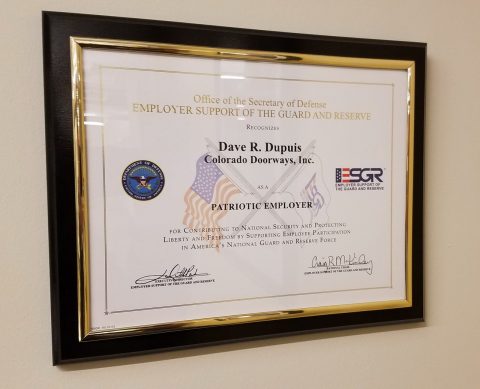 Colorado Doorways has long recognized the significant contributions of our nation's military and the brave men and women that have served in it. That dedication to our employees that currently serve and have served was recognized as four employees received the U.S. Department of Defense's Employer Support of the Guard and Reserve Patriot Award.
You could say Security Integration Project Manager Glenn Kaufman leads a double-life.
Most days he is hard at work in our Doorway Solutions division helping companies and institutions secure their facilities.
Glenn, however, has another job as Sergeant First Class Kaufman of the Colorado Army National Guard.
As SFC Kaufman, he has served 21 years in the military seeing deployments supporting the War on Terror to Iraq and Afghanistan. Close to home, he was called up to assist in the battle against the Waldo Canyon fire in 2012 and the devastating floods in northern Colorado in September 2013.
At Doorways we know that the mission of our nation takes priority over the mission of our company.  We have always supported Glenn when the nation needs him and we heartily recognize the contributions of our nation's veterans.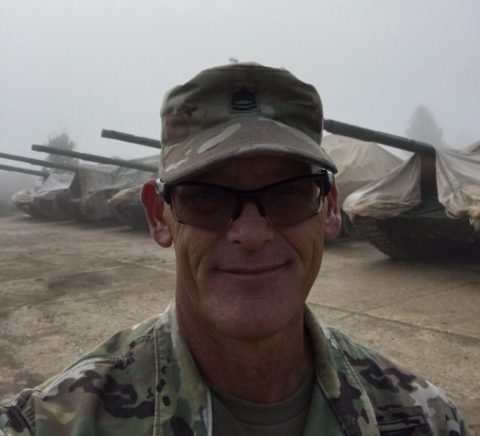 Sergeant First Class Kaufman nominated President Dave Dupuis, Vice President of Administration Janice Baumgartner, Vice President of Operations Keith Rigli and Human Resources Specialist Linda Shimeall for the Employer Support of the Guard and Reserve (ESGR) Patriot Award.  Each humbly accepted the awards and were honored to be acknowledged.
The ESGR Patriot Award recognizes these Doorways employees for "contributing to national security and protecting liberty and freedom by supporting employee participation in American's National Guard and Reserve Force."
The proven leadership, knowledge, experience and work ethic veterans bring to the workforce is something Doorways actively seeks in our employees. We currently proudly employ 17 Army, Navy, Marine Corps and Air Force veterans and thank them, and all veterans, for their service.
Are you a veteran looking for a civilian employer that appreciates your service? Learn more about how to join our team here.